PERGA | GREECE 2.0
HACC with HIN and MITEF
Wednesday May 26th @ 12:00 pm EDT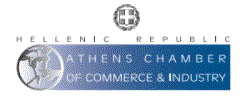 Special Thanks to our Sponsors
We would like to thank our sponsors:
The Ripple
Thursday, May 28, 2020, at 12:00 PM (EDT)
"CALL TO ACTION FOR THE US AND GREECE"
Thursday, March 26th, 2020
[New York] European Pitch&Mix Night: Europe's Fintech/Cryptocurrency
​
Our partner organization European-American Chambers of Commerce in the United States is excited to be able to invite you to its second 2018 start-up pitch night – "Pitch&Mix" – this time on Fintech/Cryptocurrencies.
​
"Pitch&Mix" events train the spotlight on the many fantastic initiatives that are coming out of the EU tech scene right now and connect those efforts to the broad international network we have here in NYC.
​
Hosted in a unique setting, this event series features some of the hottest European startups. They are provided with a platform to pitch and showcase their latest advances to a mix of tech enthusiasts, entrepreneurs, and young professionals from over 20 countries.
​
Join us to spark ideas, conversations, and new connections on the future of European innovation.
​
June 14, 2018
6:30 PM – 9:00 PM
RSVP by June 10, 2018
​
Poggenpohl Downtown Kitchen Design Studio
270 Park Ave South, New York, NY 10010
18th Annual EACC Spring Networking Event
HACC members and guests are invited to join over 400 representatives of various member chambers of the European-American Chamber of Commerce in the United States, Inc.
​
Participants will gather at the renowned Central Park Boathouse for a truly international evening of networking, hors d'oeuvres, buffet dinner and wine & beer, overlooking the beautiful and historic Lake of Central Park. You won't want to miss this festive occasion!
​
Thursday, May 24, 2018
6:00 – 9:00 PM
RSVP by Monday, May 21st
​
Central Park Boathouse
East 72nd Street & Park Drive North